Building Regulations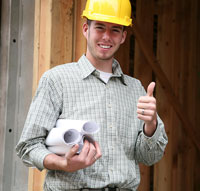 If you intend to put up a new building in England or Wales, or extend or alter an existing building, or put an existing building to a different use, the Building Regulations will probably apply.
The main purpose of the Regulations is to ensure the health and safety of people in or about buildings. They are also concerned with energy conservation and with making buildings more convenient and accessible for people with disabilities. The Regulations are regularly updated to raise standards.
There are a number of ways of obtaining Building Regulation approval. We have entered into a partnership with Lincs Building Consultancy (an amalgamation of the previous NELC & ELDS Building Control Departments). LBC were chosen for their readiness to offer quality advice and for the helpfulness of their staff. The partnership provides us with a dedicated Building Control Officer to whom we can submit all applications regardless of where the project is. There are numerous benefits such as easily accessible pre-application advice and a close working relationship which tends to mean quicker approvals.
We have also signed up to the LBC Customer Charter which requires us to maintain a high standard of application and in return we get a quality service which helps our clients. Where there are changes to the Building Regulations we are able to work together to find new solutions.
We attend LBC seminars (and those held by other Building Control organisions) to monitor current and future developments and to ensure that our designs will be compliant with the latest Regulations.