Project B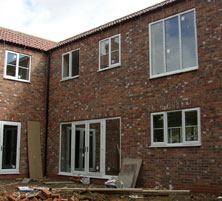 Our Clients had purchased a dilapidated farmhouse in North Lincolnshire with the intention of demolishing it to build a new family home.
They wanted a traditional design but with more living space than the 2-bedroomed original. As the property was not in a central village location it was defined as open countryside so subject to strict limitations, particularly with regard to size.
We therefore discussed this project with the Planning Officer and agreed the largest possible dwelling that suited the client's needs and satisfied local planning policy. The planning application was then approved under delegated powers in approximately seven weeks.