Project D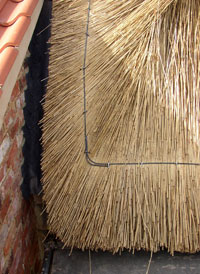 This cottage was very lucky to be rescued by a couple with vision. Originally a small mud and stud thatched cottage, it had caught fire and been temporarily repaired with heavy pantiles before catching fire again.
The roof had collapsed through the first floor leaving the whole structure exposed to the elements. Support from the NELC Conservation Officer allowed careful restoration of the original cottage using newspaper archive photographs to restore the original dormers.
A large extension was permitted which was designed in the style of a Victorian granary when viewed from the road, but the rear was given a more contemporary appearance to create light living spaces within.